"A joyful life is made up of joyful moments gracefully strung together by trust, gratitude, inspiration, and faith." – Brene Brown
Often the smallest, simple things bring the greatest joys.
The pitter-pat of rain drops, sunshine glistening on water like diamonds, laughter that makes your face hurt, comfort foods, friends who understand you, warm hugs, fresh perspectives, and grateful hearts.
Why do these bring delight to our life? They are simple joys, created out of an overflow of gratitude.
Today let's look at some refreshing ways to bring simple joys into our day.
Practice gratefulness: Regardless of circumstances, start by being appreciative for a new day, food to eat, your home, friends to count on, people to love, music… you get the idea. Count five blessings. If that was easy, make it to ten. Especially if your day isn't going well or you feel yourself taking a turn to the "dark side," spend some time being grateful and begin to feel your heart soften and the tension melt away.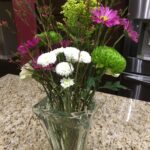 Fresh cut flowers: A bouquet of flowers in your kitchen or in a favorite place brings the outdoors in, with color and texture. Whether from Trader Joe's or from your own yard, they offer a ray of sunshine. Cutting and arranging them is relaxing, and with water changed every other day, they can last over a week.
Connect with your people: We were created for relationship. Spending time with people who build you up, make you laugh, listen to your heart, and leave you feeling uplifted is a gift. Meeting for coffee or a walk at least once a week is a great investment of time.
Music: Adding music energizes and brings joy to routine tasks. Crank up your favorite playlist in the kitchen while making dinner or doing dishes, out in the yard gardening, or washing your car.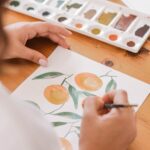 Create Something: Working with your hands brings about new life and excitement. It doesn't need to be perfect, just make it fun. Kneading dough to make bread, cutting flowers to make an arrangement, digging holes to plant flowers, designing a meme, knitting a scarf, decorating a wall with new art or family pictures – all bring out your inner creativity. We all need this from time to time, even if you don't consider yourself "creative."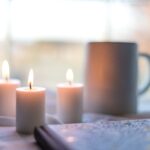 Light candles: My motto is "You can never have enough candles." Light them regularly for warm, cozy ambiance, and delightful fragrances. Home feels more like a happy haven when candles are lit in the morning or as night falls.
Hot bubble baths & self care: Escape the world for a while. (Who remembers the Calgon commercial?) Relax, refocus, and refresh your mind and body. You deserve it. You will be a better wife and mom for taking this time for self care. If baths aren't your thing, create your own spa experience with a facial mask, hair treatment, or foot soak. The main idea is to feel renewed.
Words of encouragement: Do you have a favorite verse or scripture you'd like to memorize? Is there a quote that brings you hope & joy or inspires you? Write it in dry erase on your bathroom mirror (don't worry, it comes right off), or print it out on an index card and place it in your car or at the kitchen sink. Refresh these weekly.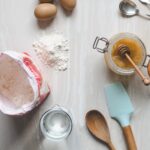 Learn a new skill: Being a life-long learner is a mindset. What is on your bucket list to learn? Maybe learning new parenting skills, or improving a relationship, or health issue is important to you? Maybe you'd like to learn drawing, cooking, arranging flowers, gardening, graphic design, decorating, or dancing? Set aside time to learn from someone, take a class, or watch tutorial videos. Your new skill will leave you energized and hopeful.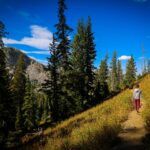 Fresh air & exercise: A little sunshine and movement energizes the soul. Walk a trail or around your neighborhood, enjoying nature, while taking in the sights and sounds around you. It may be an ordinary day, but there will not be another like it.
How will you add joy to your week?  Please share below in the comments.  I'd love to hear what you choose or any new ideas!  May God bless you with unexpected joy.
Subscribe Below To Receive Blogs Directly –