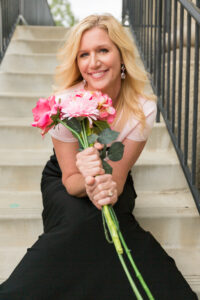 Leann Seale is passionate about sharing God's faithfulness through life's journey in marriage, family, and faith. She has been married to her high school sweetheart, Jeff, for over 30 years. Both accepted Jesus as their Lord and Savior months after saying their vows.
She earned a bachelor's degree in Communications, then worked in public relations, until their first son was born. She has been blessed to be a "stay at home mom," which she'll admit is the most difficult, but best job on earth.
Leann is energetic, bubbly, down to earth, and loves to spend time with her family and friends. She enjoys entertaining, and her motto is "If you feed them, they will come" – and they do!
She has a joy and love of sharing Jesus and applying the Scriptures to every day life. She enjoys studying God's Word, and serving in ministry. Through the years she has helped start the Homebuilders ministry at her church, brought Good News Clubs to the elementary schools in her city, directed Awana clubs, taught Bible Story during many VBS summers, active in Women's Bible Study as a small group leader and an iMOMS mentor mom. She is a published author in the compilation book, Whispers of Grace, Volume 2 with her devotion, "Strength & Grace." She also writes devotions for her church that accompany their sermon series.
She loves gardening, flower arranging, Book Club with the girls, coffee and dark chocolate in the afternoon, all shades of pink, cooking, playing games with the family, speaking and writing.
FUN FACTS:
1. I met my "husband to be" on our high school football field the summer before our freshman year.
2. I love to deep sea fish and even have two poles wrapped in raspberry and light pink… separates me from "the boys" 😉
3. My motto is: "If you feed them, they will come." Works every time.
4. My husband and I still get together with friends from high school… some of whom we've known since elementary school.
5. I love being a wife and mom.
6. My husband and I gave our lives to Christ on the same day after a New Member's Class at our church, at age 22, shortly after getting married. God has been transforming me ever since.
7. If I could have coffee with anyone, I'd choose Beth Moore and share with her how she has inspired me to grow in my faith and inspired excitement for studying God's Word.
8. Sometimes popcorn and wine is okay to have for dinner.
9. Our current home sits on the same property that once was our old church property and the first place I learned about God and called church – "home."
10. I love encouraging young moms.
11. My mom and dad have been married for over 52 years.
12. I could spend all day studying the Bible! Along with concordances, Bible dictionaries, commentaries – and oh yes! LOGOS Bible Software!
13. I love planting flowers to admire the colors and textures of God's creation.
14. I enjoy dark chocolate and a delightful hot cup of coffee in the afternoon.
15. My favorite movies are: Charlie's Angels (both), A Knight's Tale, The Princess Bride, Shrek (1 & 2), Bridges of Madison County, and anything that makes me laugh.
16. I love the X-GAMES, and have attended them – it was awesome!
17. I'm a girly girl – I love dresses, curls, and sparkly things.
18. One of my favorite workouts is putting on my boxing gloves and punching and kicking our heavy weight bag in our garage gym.
19. My husband is my favorite person on earth.
20. Cut flowers arranged in my kitchen make my heart happy.
21. You can never have too many candles.
22. I really love being a wife and mom
23. My favorite TV shows are: Friends, Blue Bloods, FBI, and America's Got Talent.
24. Washing and detailing my car makes me happy. Tire shine foam and Armor All are my "go to's."
25. Book Club is the best! We laugh, we read, we enjoy wine and great food – we are authentic, living the bitter-sweet moments of life together.