Below are some of the resources I refer to in my writing and talks. If you are interested in purchasing them I've included links directly to Amazon for your convenience*. Enjoy…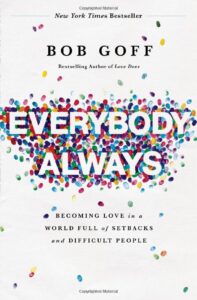 Everybody Always by Bob Goff
What if we stopped avoiding the difficult people in our lives and committed to simply loving everybody? What happens when we give away love like we're made of it? In Everybody, Always, Bob Goff's joyful New York Times bestselling follow-up to Love Does, you'll discover the secret to living without fear, constraint, or worry.
Bob teaches us that the path toward the outsized, unfettered, liberated existence we all long for is found in one simple truth: love people, even the difficult ones, without distinction and without limits.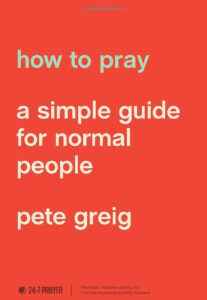 How to Pray: A Simple Guide for Normal People by Pete Greig
Is prayer the most challenging area of your Christian journey? It doesn't have to be. Pete Greig, one of the founders of 24-7 Prayer International, is passionate about introducing people to simple, honest, relevant conversations with God.
How to Pray is a raw, real, and relevant look at prayer for everyone―from the committed follower of Jesus to the skeptic and the scared. Full of biblically sound wisdom, How to Pray will offer honest encouragement and real-life methods to refresh your spirit and help you practice life-giving and lifechanging prayer.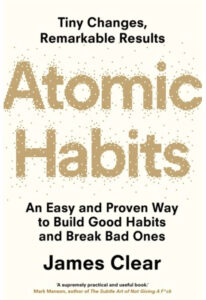 Atomic Habits by James Clear
No matter your goals, Atomic Habits offers a proven framework for improving – every day. James Clear, one of the world's leading experts on habit formation, reveals practical strategies that will teach you exactly how to form good habits, break bad ones, and master the tiny behaviors that lead to remarkable results.
–
The Meaning of Marriage by Timothy Keller
Whether married, engaged, or considering marriage, this book covers the vision of marriage based according to Biblical Truths in Scripture. This book offers instruction on how to have a successful marriage, apart from what society says about relationships today.
Love & Respect by Dr. Emerson Eggerichs
If you've been struggling with communication and the same old cycles – learn how to understand one another and how we are wired differently as men and women. Men need respect, as women need love – learn how to live this out within your marriage. Turn your "crazy cycle" into a healthy cycle of love and respect.
Consider reading this book as a couple's book study! Key verse: Ephesians 5:33 "Each of you also must LOVE his wife as he loves himself, and the wife must RESPECT her husband."
Crucial Conversations by Patterson-Grenny-McMillan-Switzler
For business or home life, this book offers tools for talking when stakes are high and emotions are running high. Most times we are at our worst during these moments. Based upon research and case studies, tested techniques are given for becoming an effective communicator during crucial conversations.
The Sexually Confident Wife by Shannon Ethridge
Shannon brings authenticity and honesty to intimate topics in the bedroom. She covers how to maximize the sexual and emotional potential in your marriage. With down-to-earth wisdom, she helps women to connect with their men on every level – physical, mental, emotional, and spiritual – enabling them to fully enjoy the ultimate, enduring union that marriage can be.
Every woman deserves to enjoy great sex with her husband without inhibition or shame – but wives live with the burden of self-doubt or feel unsure about what they want or their husband wants in bed. This book shows women how to create the healthy, exhilarating sex lives their marriage deserves.
From This Day Forward by Craig & Amy Groeschel
An easy read, Craig writes in a conversational style that is down-to-earth. Beginning with expectations, he gives five points to consider maintaining a healthy, strong marriage for life. Amy shares from her point of view at the end of each chapter. Their solid advice is sound and worthy of reading.
Closer Devotions To Draw Couples Together by Jim & Cathy Burns
If you desire to grow closer as a couple, connect spiritually and emotionally – begin this devotion together. Consider reading a devotion once a week. The format begins with a Bible verse, a story, followed by questions to prompt conversation, then ends with a prayer. This book is easy to follow and rich in content.
Night Light A Devotional For Couples by Dr. James & Shirley Dobson
With the demand of a fast pace life: work, kids, school, financial commitments… we find it difficult to connect with our spouse. This book by the Dobsons offers wisdom from four decades of a successful marriage and their Focus on the Family ministry.
This book features twenty-six themes, Scripture, insightful questions, prayers and personal commentary, as well as short stories from a host of popular authors. Each day's reading is just ten minutes or less. A fresh inspiration for your marriage and spiritual life.
Intimate Issues by Linda Dillow & Lorraine Pintus
You want to be a godly and sensuous wife. You desire God's best for yourself and for your husband. But you have questions – Intimate Issues answers the twenty-one questions about sex most frequently asked by Christian wives, as determined by a nationwide poll of over one thousand women.
Written from the perspective of two mature Christian wives and Bible teachers – this book is biblical and informative, sometimes humorous, and practical. You'll find resolution for your questions and fears, insights about God's perspective on sex, and creative ideas for enhancing your physical relationship with the husband you love.
Eternity Is Now In Session by John Ortberg
A must read. The premise is that many people think "being saved" is about meeting the minimum entrance requirements for getting into heaven when they die. But that's not how Jesus talked about it. The concept of "salvation" has been misunderstood inside and out of the church.
John Ortberg explains that Salvation is the reclamation of humanity by God, experiencing his presence, favor, and power – starting now. On earth. This book will ignite a passion for being a disciple of Jesus. I highly recommend it!
Experiencing The Trinity by Darrell W. Johnson
This book offers clarity and joy at the understanding of the Trinity, an often puzzling doctrine. Darrell Johnson writes with enthusiasm, as he shares years of personal research and his conclusions. His style of simply explaining Biblical Truths makes this book an easy read. Darrell W. Johnson is one of my favorite authors, when I need spiritual wisdom and truth. I highly recommend his work.
---
*Disclosure of Material Connection: Some of the links in the post above are "affiliate links." This means if you click on the link and purchase the item, I will receive an affiliate commission. Regardless, I only recommend products or services I use personally and believe will add value to my readers. I am disclosing this in accordance with the Federal Trade Commission's 16 CFR, Part 255: "Guides Concerning the Use of Endorsements and Testimonials in Advertising."